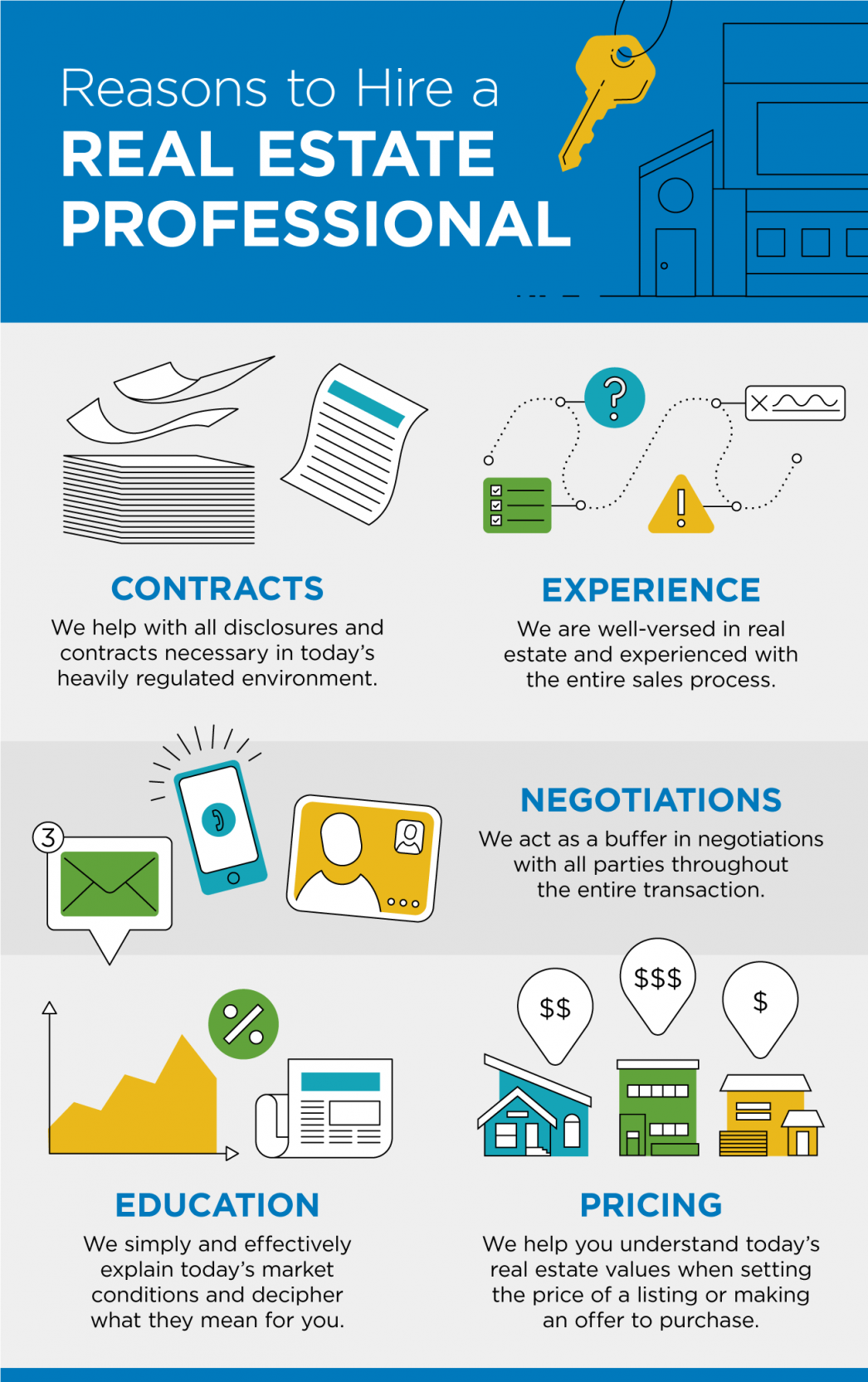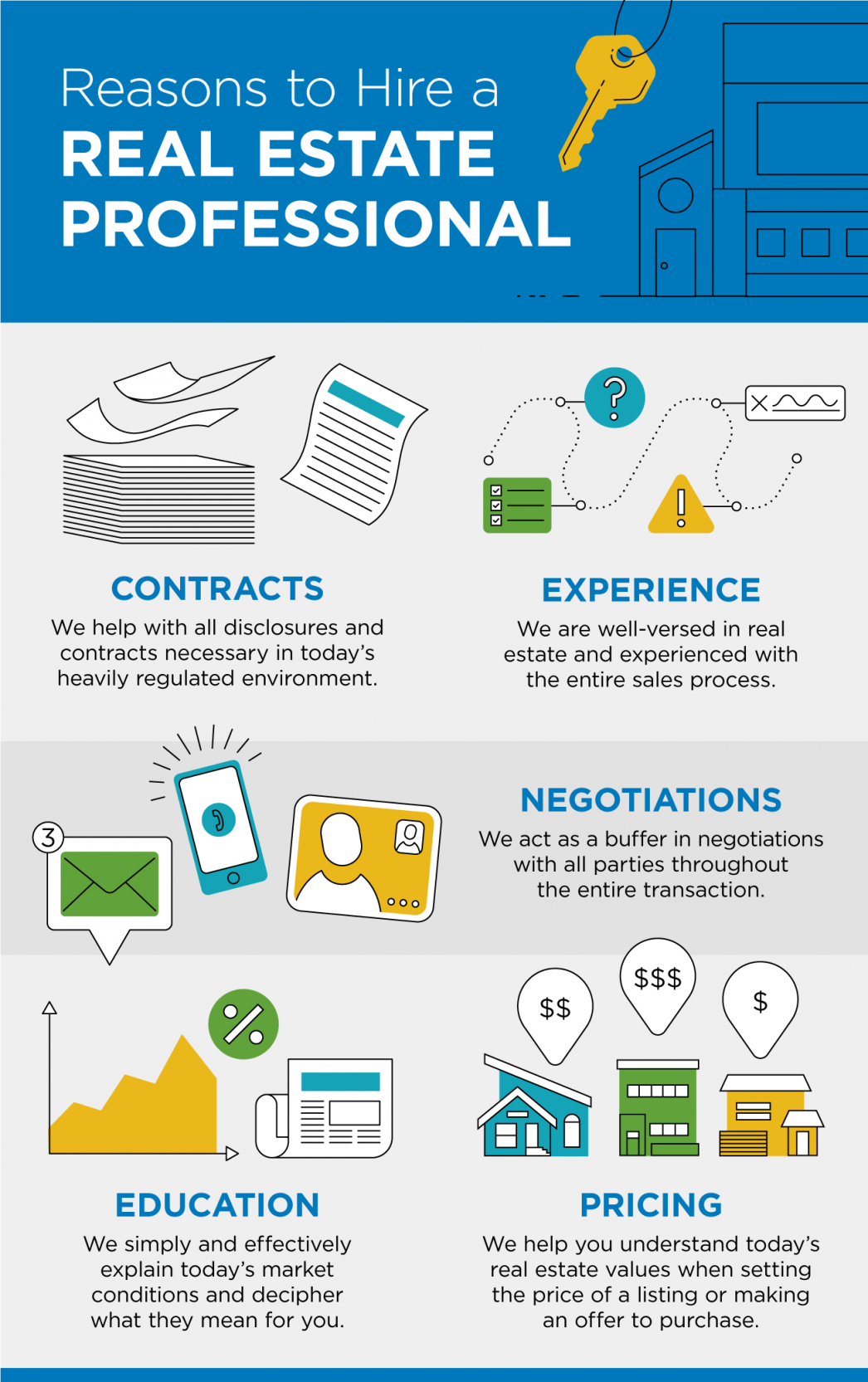 Some Highlights
Choosing the right real estate professional to work with is one of the most important decisions you can make in your homebuying or selling process.
The right agent can explain current market conditions and break down exactly what they mean for you.
If you're considering buying or selling a home this year, let's connect so you can work with someone who has the experience to answer all of your questions about pricing, contracts, negotiations, and more.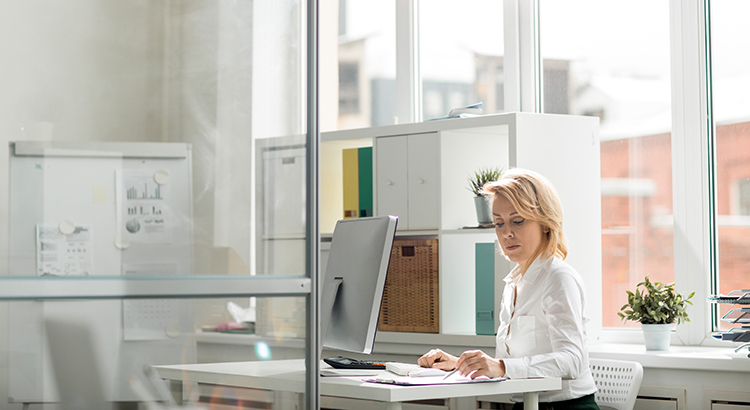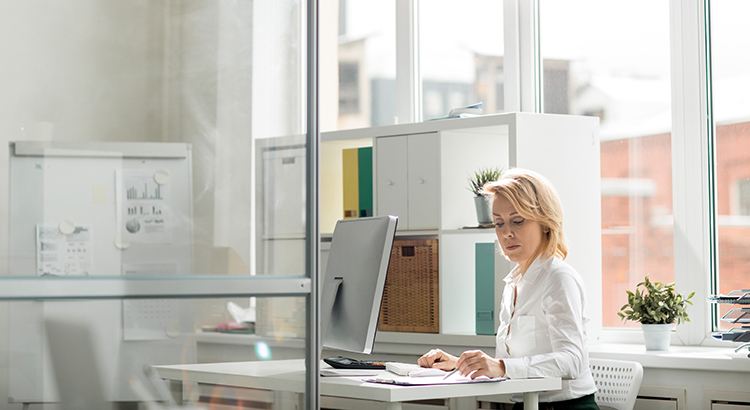 The housing market was a shining star in 2020, fueling the economic turnaround throughout the country. As we look forward to 2021, can we expect real estate to continue showing such promise? Here's what four experts have to say about the year ahead.
"In 2021, I think rates will be similar or modestly higher, maybe 3%…So, mortgage rates will continue to be historically favorable."
"We expect sales to grow 7 percent and prices to rise another 5.7 percent on top of 2020's already high levels."
"With home builder confidence near record highs, we expect continued gains for single-family construction, albeit at a lower growth rate than in 2019. Some slowing of new home sales growth will occur due to the fact that a growing share of sales has come from homes that have not started construction. Nonetheless, buyer traffic will remain strong given favorable demographics, a shifting geography of housing demand to lower-density markets and historically low interest rates."
"Mortgage rates are expected to remain low for the foreseeable future and millennials will continue forming households, keeping demand robust, even if income growth moderates. Despite the best intentions of home builders to provide more housing supply, the big short in housing supply will continue into 2021 and likely keep house price appreciation flying high."
Bottom Line
Whether you're ready to buy or sell a home in 2021, if you're planning to take advantage of the market this winter, let's connect to talk about the opportunities available in our local market.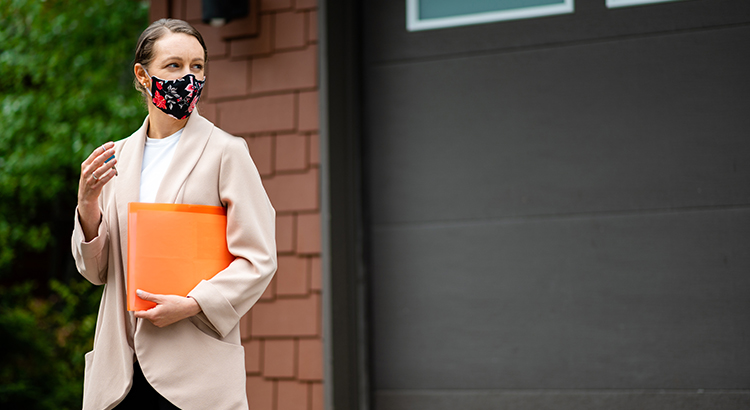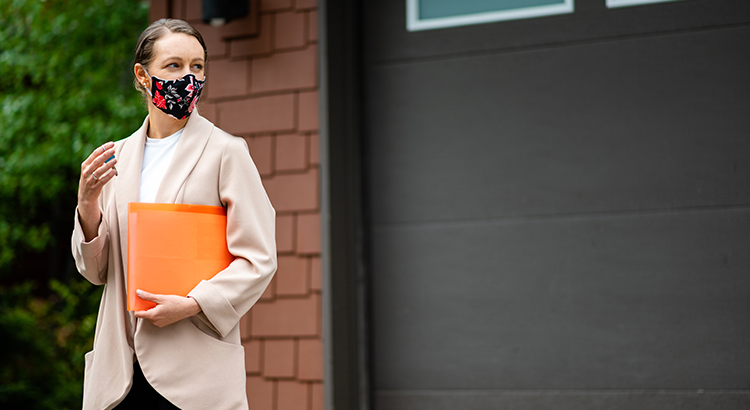 In today's real estate market, the buzz is all about how it's a great time to sell your house. Buyer demand is high, and there simply aren't enough homes available to buy to meet that growing need. This means now is the time to make a move so you can close the deal on your ideal terms.
Even in today's strong sellers' market, there are homeowners who are choosing not to sell due to ongoing concerns around the health crisis, financial uncertainty, and life in general. According to Zillow, here are the top three reasons homeowners who are thinking of selling sometime in the next three years are not putting their houses on the market right now:
34% – Life is too uncertain right now
31% – Financial uncertainty
25% – COVID-19 health concerns
If you identify with any of these, you're not alone. Whether it's the future of your employment situation or simply being uncomfortable having guests in your home for showings, life feels a lot different than it did at this time last year. The good news is, real estate professionals have spent the majority of 2020 figuring out how to sell homes safely, and it's paying off for those who are choosing to move this year.
Real estate agents are doing two things very well to make selling your house possible:
1. Agents Are Implementing Technology in the Process
While abiding by state and local regulations as a top priority, real estate agents are making sales happen safely and effectively by leveraging key pieces of technology. Agents know exactly what today's buyers and sellers need and how to put the necessary digital steps in place. For example, agents have capitalized on the technology buyers find most helpful when deciding on a new home:
Virtual tours
Accurate and detailed listing information
Detailed neighborhood information
High-quality listing photos
Agent-led video chats
They're listening to their audience and leveraging the tools that help buyers get an initial look at a home without having to step inside. This helps reduce the number of people entering your home, so only those who are very seriously interested need to take the next step: in-person showings.
2. Agents Are Facilitating Safe and Effective In-Person Showings
After leveraging technology, if you have serious buyers who still want to see your house in person, agents are following the guidelines set by the National Association of Realtors (NAR) and utilizing safe ways to proceed. Here are a few of them, understanding again that the agent's top priority is always to follow­ state and local restrictions first:
Limiting in-person activity
R­­­equiring guests to wash their hands or use an alcohol-based sanitizer
Removing shoes or covering them with booties
Following CDC guidance on social distancing and wearing face coverings
Getting comfortable with your agent – a true trusted advisor – taking these steps under the modern-era safety standards might be your best plan. This is especially important if you're in a position where you need to sell your house sooner rather than later.
As Jeff Tucker, Senior Economist for Zillow notes:
"Homeowners who feel life is uncertain right now may think they can still get a strong price if they delay selling until they have more clarity. The catch is that waiting to sell may raise the cost of a trade-up. This fall's record low mortgage rates, which make a trade-up more affordable on a monthly basis, are not guaranteed to last."
Bottom Line
In this new era in our lives, things are shifting quickly, and virtual strategies for sellers may be your ideal option. Opening your doors up to new approaches could be game-changing when it comes to selling your house while the market is leaning in your favor. Let's connect so you have a trusted real estate professional to help you safely and effectively navigate all that's new when it comes to making your next move.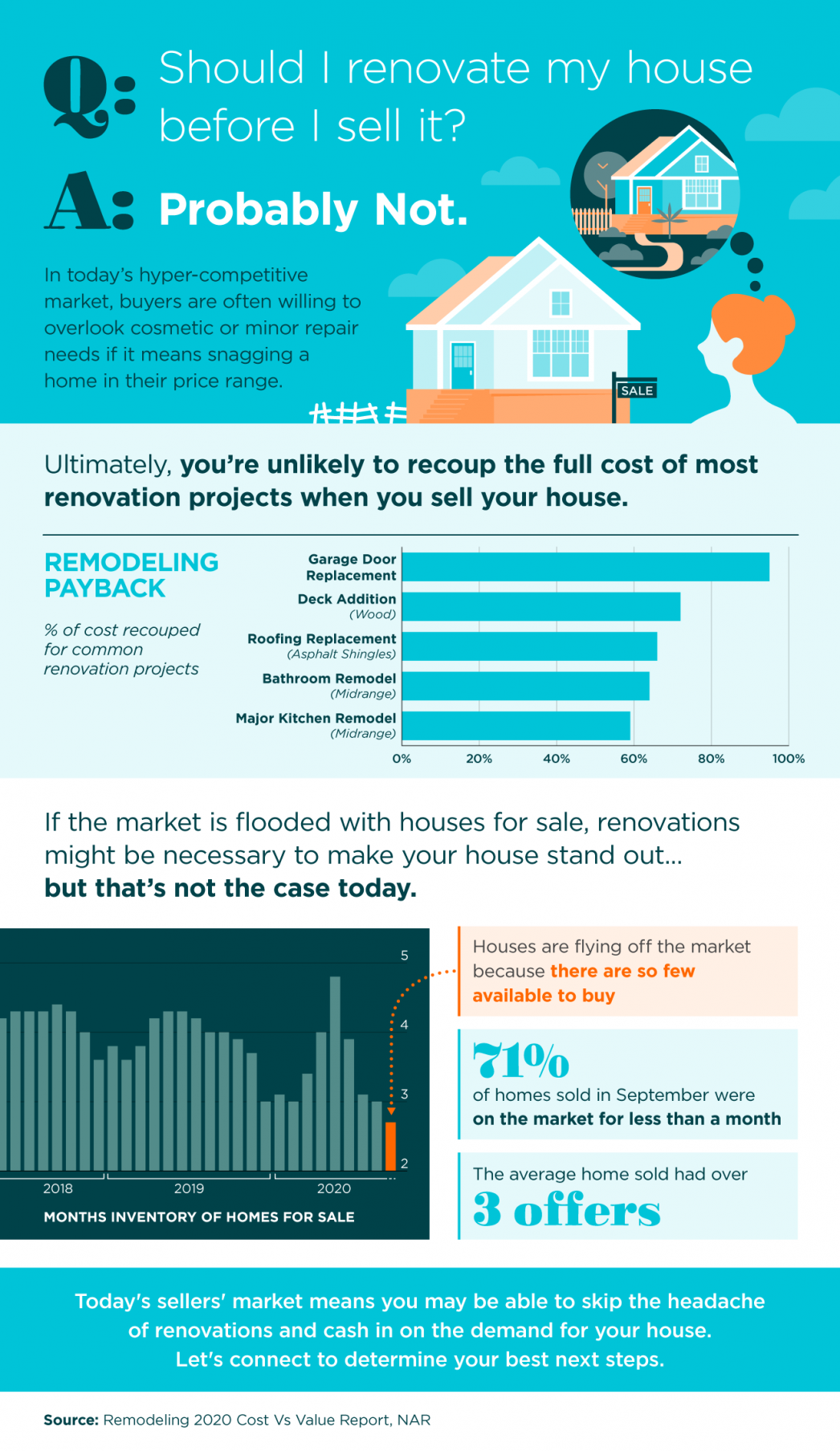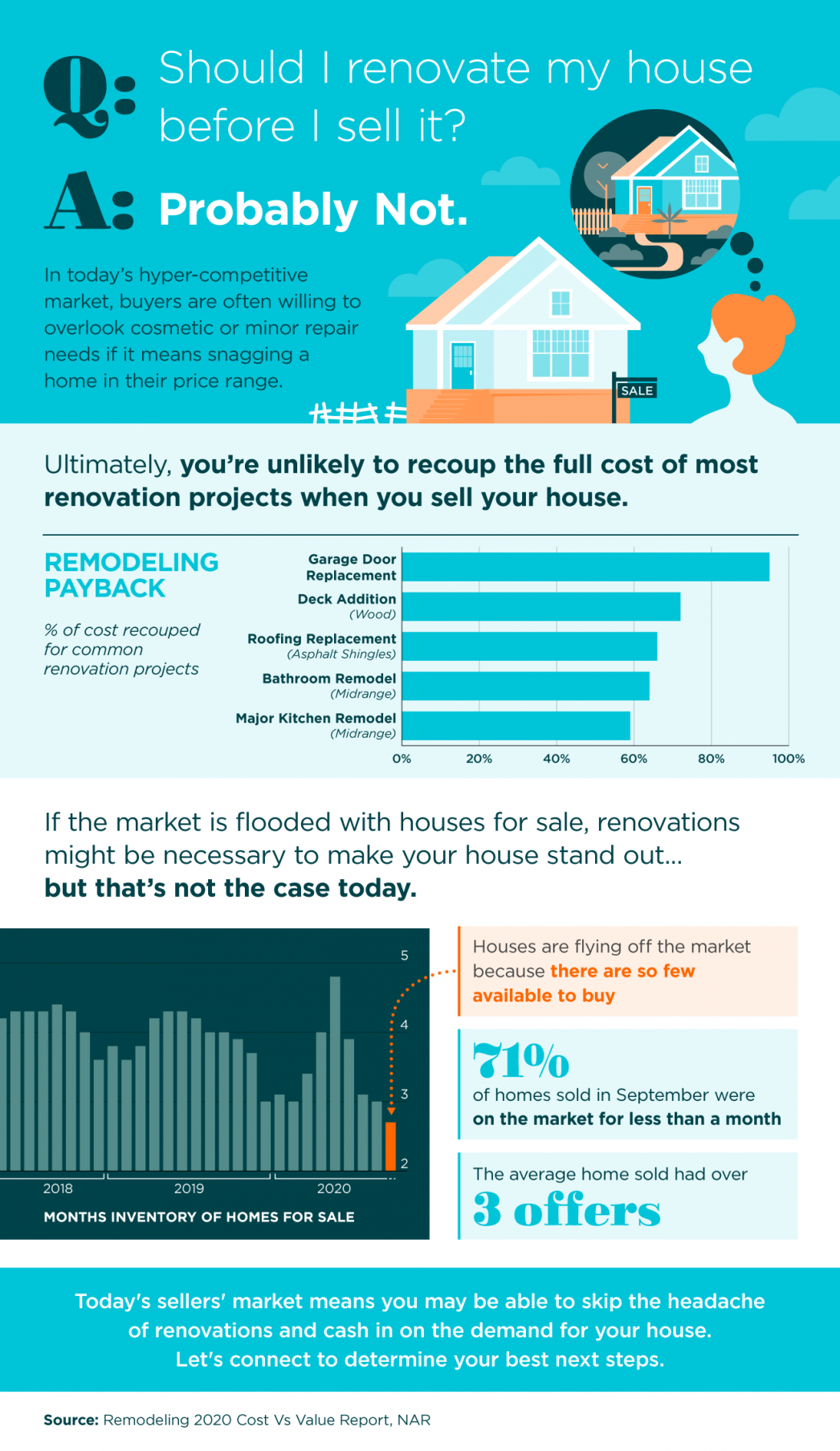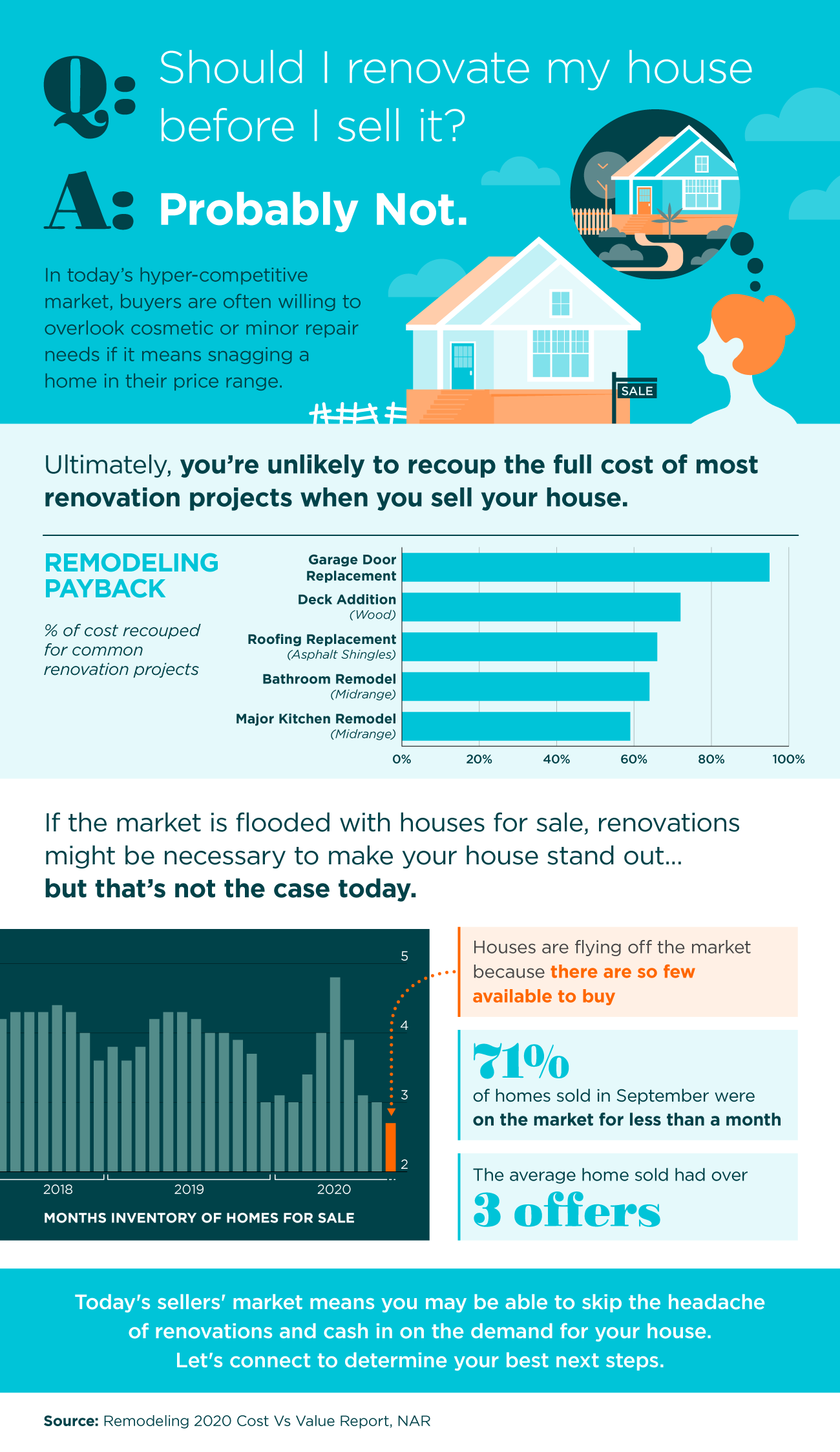 Some Highlights
In today's hyper-competitive market, buyers are often willing to overlook cosmetic or minor repair needs if it means snagging a home in their price range.
With so few houses available for sale today, you may be able to skip the bigger renovations before you sell and cash in on the current demand for your house.
If you're ready to move, let's connect to determine your best next steps in this sellers' market.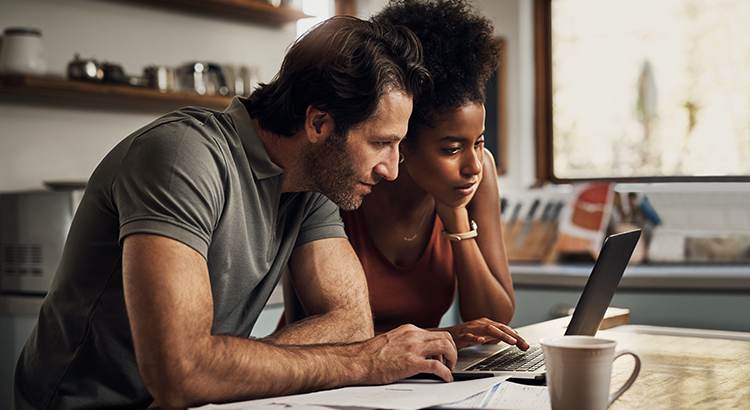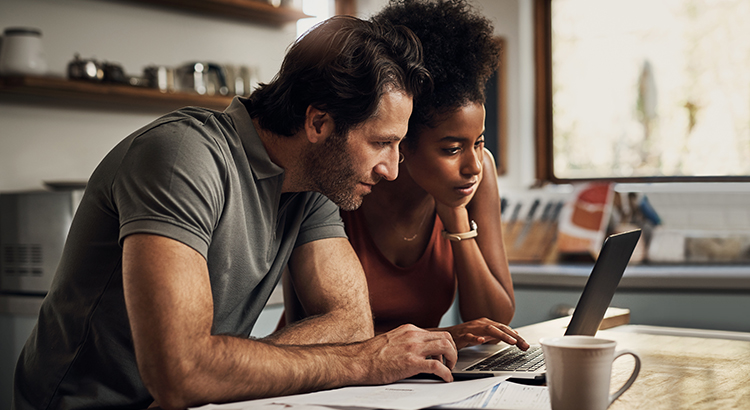 We're sitting in an optimal moment in time for homeowners who are ready to sell their houses and make a move this year. Today's homeowners are, on average, staying in their homes longer than they used to, and this is one factor driving increased homeowner equity. When equity grows, selling a house becomes increasingly desirable. Here's a breakdown of why it's a great time to capitalize on equity gain in today's market.
As average homeowner tenure lengthens and home prices rise, equity, a form of forced savings, can be applied forward to the purchase of a new home. CoreLogic explains:
"Over the past 10 years, the equity position of homeowners has positively changed as a result of more than eight years of rising home prices. As the economy climbed out of the recession in the first quarter of 2010, 25.9% or 12.1 million homes were still underwater, compared to the first quarter of 2020 when the negative equity share was at 3.4%, or 1.8 million properties. Borrowers have seen an aggregate increase of $6.2 trillion in home equity since the first quarter of 2010 and the average homeowner has gained about $106,100 in equity."
Increasing equity is enabling many homeowners who are ready to sell their current houses today to sell for an increased profit, and then reinvest their earnings in a new home. According to the Q2 2020 U.S. Home Sales Report from ATTOM Data Solutions, in the second quarter of 2020:
"Home sellers nationwide realized a gain of $75,971 on the typical sale, up from the $66,500 in the first quarter of 2020 and from $65,250 in the second quarter of last year. The latest figure, based on median purchase and resale prices, marked yet another peak level of raw profits in the United States since the housing market began recovering from the Great Recession in 2012."
If you've been taking a closer look at your house recently and are thinking it might be time for you to make a move, determining your equity position is a great place to start. Understanding how much equity you've earned over time can be a key factor in helping you realize the potential profits in your real estate investment and move toward your next homeownership goal.
Bottom Line
With average home sale profits growing, it's a great time to leverage your equity and make a move, especially while the inventory of houses for sale and mortgage rates are historically low. If you're considering selling your house, let's connect today so you can better understand your home equity position and take one step closer to the home of your dreams.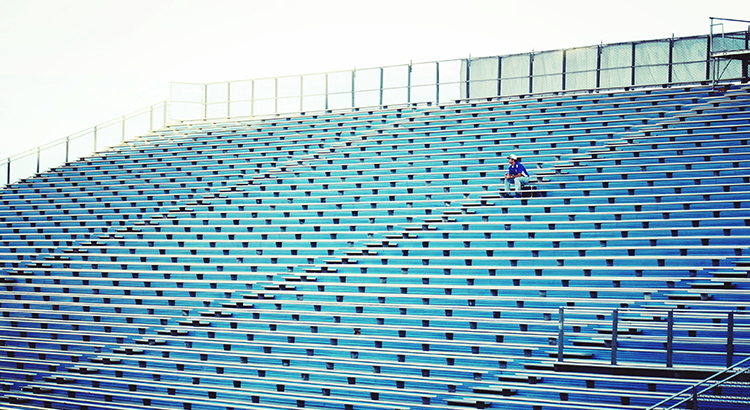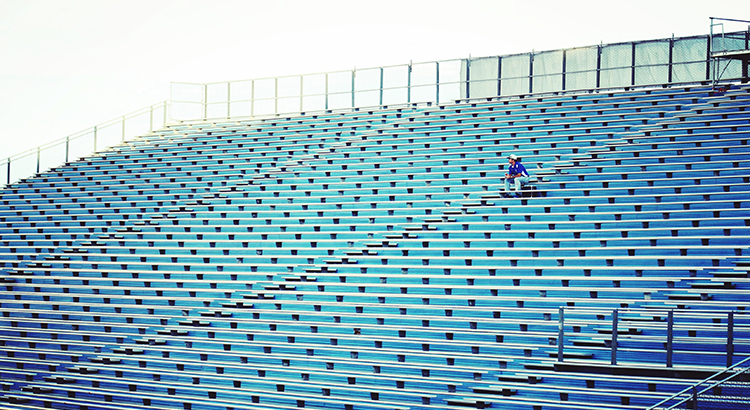 In a recent survey of home sellers by Qualtrics, 87% of respondents said they were concerned their home won't sell because of the pandemic and resulting economic recession. Of the respondents, 51% said they are "seriously worried." That concern seems reasonable considering the current condition of the economy. The data, however, is showing that home purchasers are still very active despite the disruptions American families have experienced this year.
The latest Existing Home Sales Report published by the National Association of Realtors (NAR) revealed that 340,000 single-family homes sold in this country last month. NAR's most recent Pending Sales Report (homes going into contract) surpassed last month's number by over 44%, which far exceeded analysts' projections of 15%. ShowingTime reported that appointments to see homes (both virtually and in-person) have increased in every region of the country and are up 21.4% nationwide over the same time last year.
While buyer activity is surging, the number of listings has fallen to an all-time low. Zelman Associates, in their latest residential real estate report, revealed that housing inventory as a percentage of households has fallen to 1.2%, which is half of the long-term average and lower than any other time in our history.
Bidding Wars Heating Up Again
With buyer demand growing and the supply of available homes shrinking, purchasers are again finding themselves needing to outbid other buyers. NAR, in a recent blog post, revealed:
"On average, there were about three offers on a home that closed in May, up from just about two in April 2020 and in May 2019 (2.3 offers)."
Bidding wars guarantee houses sell quickly at a price near or even slightly over the listing price.
Bottom Line
If you're thinking of selling, don't be concerned about putting your house on the market right now. There's no better time to sell an item than when demand for it is high and supply is low. It is exactly at that time when you will negotiate your best possible deal.
"If they don't like my style, then they don't have to buy the house!" my 85-year old mother says to me when we talk about what she needs to do to get her house market ready.  Truthfully, this a fake scenario since I would never let my parents sell my childhood home; they know I would buy it from them first.  But every time I go visit, my mom asks me what I would do if she did sell it, and every time she belligerently quotes the above.
My mom has style and a great sense of interior design, but it isn't what would sell a house quickly.  When I was an infant, pictures show a checkerboard linoleum floor, dark paneling,  and an orange leather couch, so VERY 1969. The 1965 Mad Men-like kitchen cabinets are solid wood and have served well for the 53 years she has inhabited the home. I don't even notice the pastel pink cabinets in my childhood bathroom with flower wallpaper, but my husband did the first time he went in wide-eyed. The formal dining room and living rooms, which we were never allowed in except for special occasions, used to be covered in chintz, but now it and much of the main areas display a Southwest style, which I actually like.
And wallpaper.  Wallpaper everywhere, even on ceilings. My mom has jokingly said that if she and my dad were ever going to divorce, it would be over wallpaper installations.
Today I went into a beautiful home in a gorgeous Eastside Seattle suburb (click to see here), but it was hard to see past the wallpaper (and the hundred rooster representations) throughout the house.  Laura Ashley would have been proud of these interior decorating decisions.  A lot of knick knacks, wall paper, and fabric designs in every room. I can see the love and careful choices the owner made years ago to make her house a showcase, but now the style is a bit much for today's buyer.
So I have some suggestions for both Sellers and Buyers.
Buyers: See past the wallpaper and thingamajigs. Wallpaper, curtains, and brass fixtures can be removed easily. You will make the house your own and it will be so cool for you and your collection of bobble heads can be displayed prominently until you move on to a new life adventure years down the road.
Sellers: Declutter, declutter, declutter. I know you raised your three, beautiful children there and have amazing memories when your daughter wore the biggest bow in her hair for pictures in front of the Christmas tree. It is time to let your home bring joy to other people who see the home through a different lens and can't see themselves in the home with all of your many possessions filling the space.
These out-of-style homes are well-loved, and that's the kind of energy you should want in a new home. It is ready to be updated and welcomed into a new era by your family now.  Except my parents' house…no one is buying that house but me!