Matthew Gardner is as close as we at Windermere get to a crystal ball.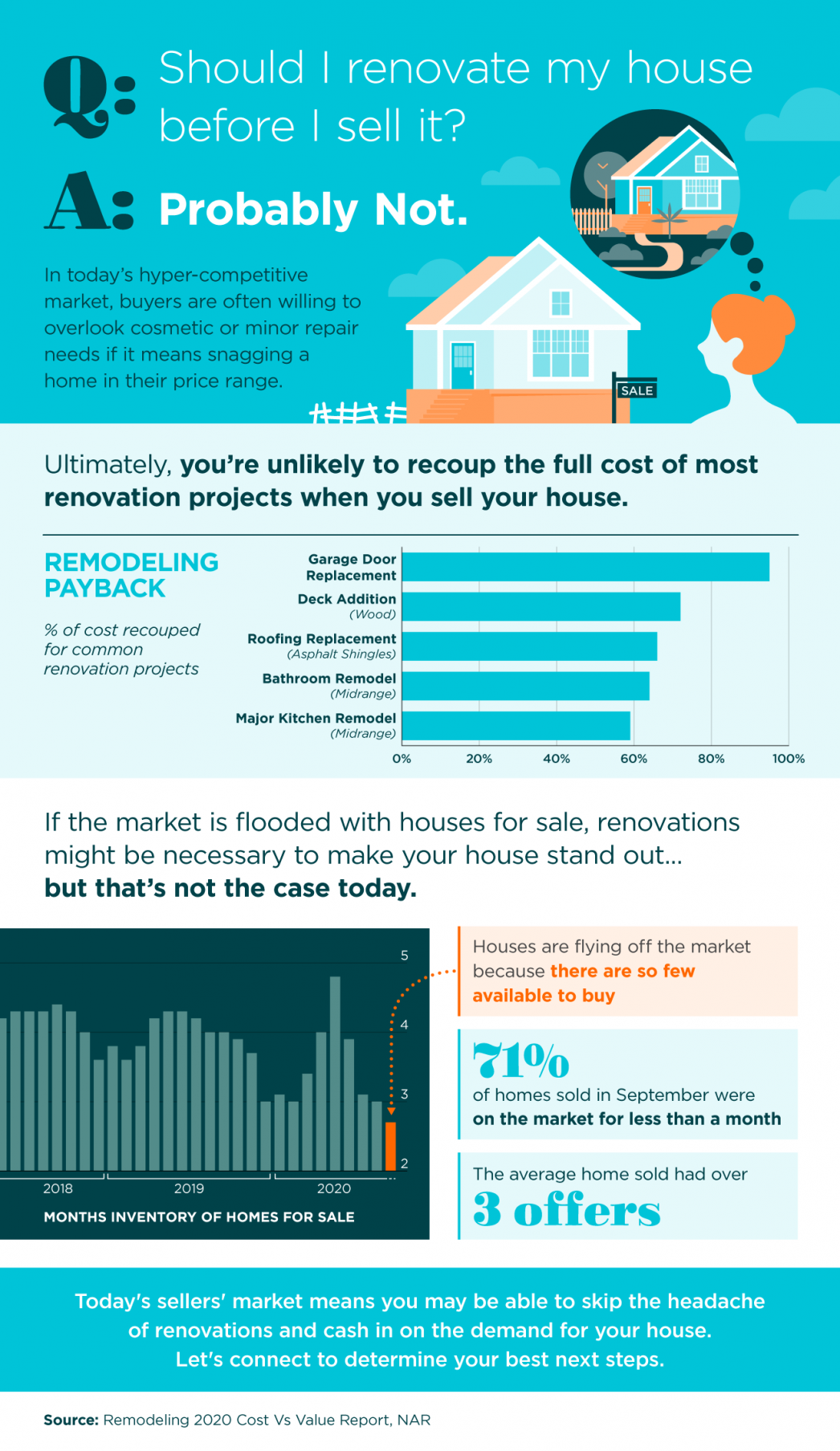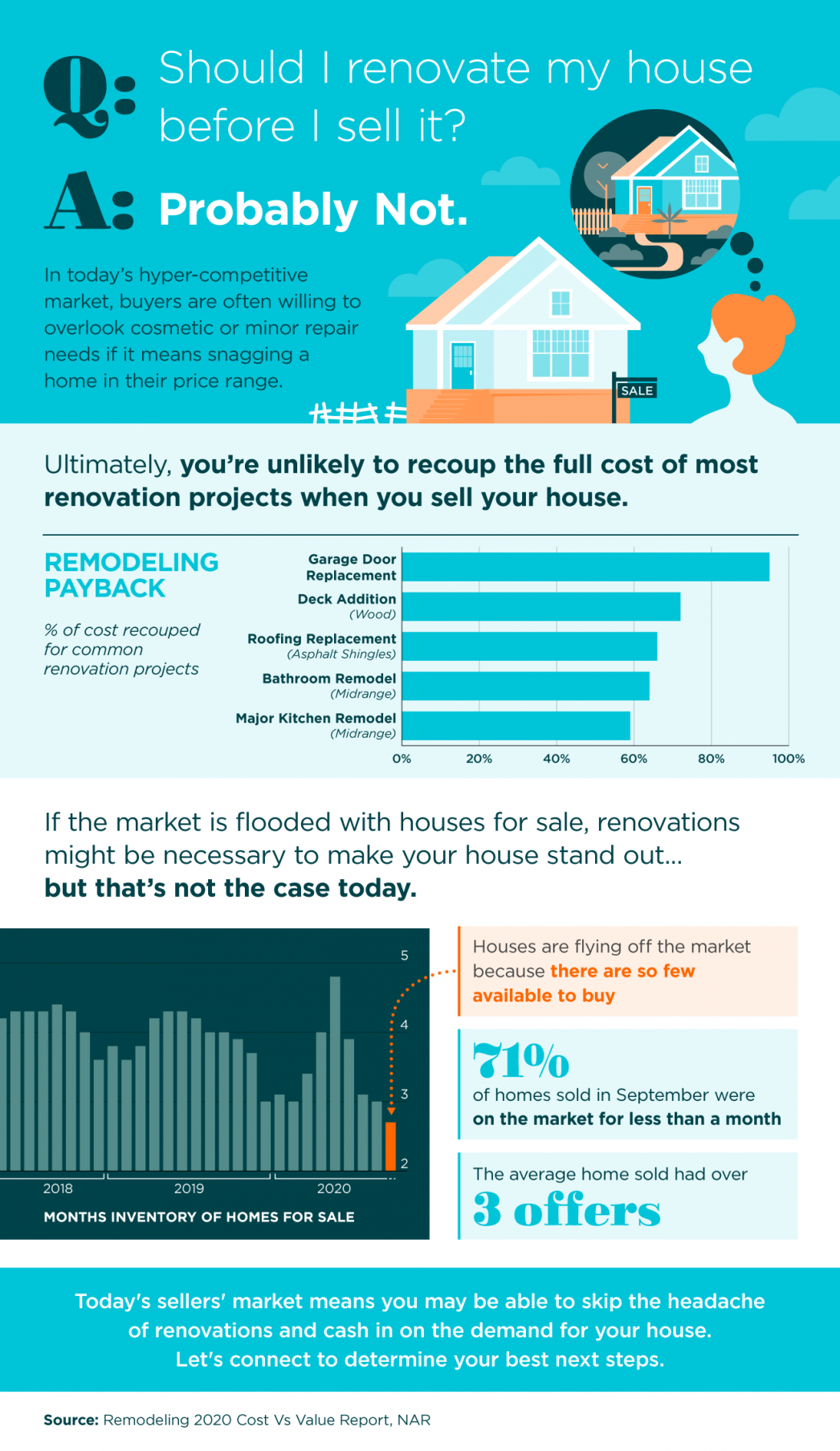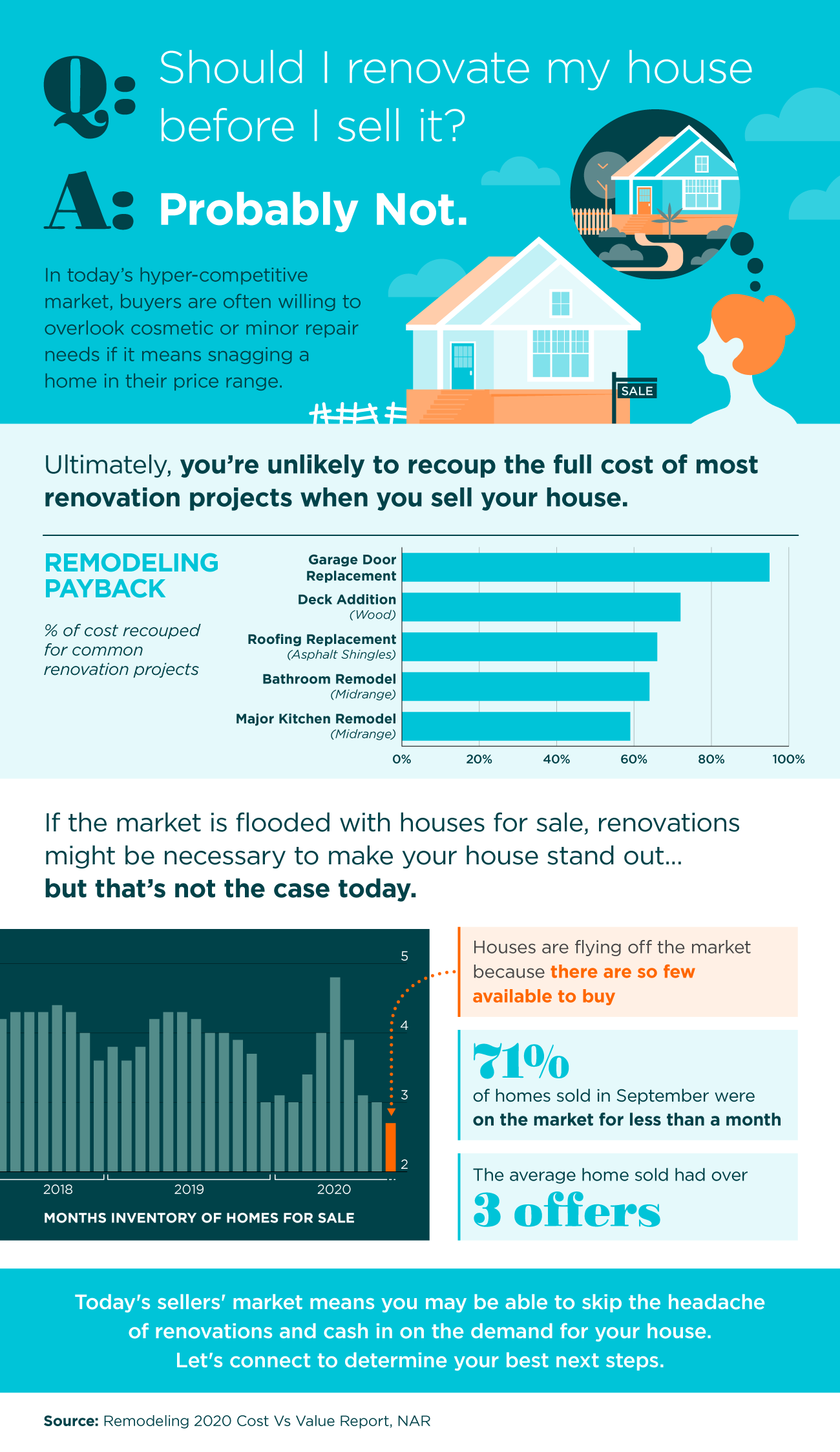 Some Highlights
In today's hyper-competitive market, buyers are often willing to overlook cosmetic or minor repair needs if it means snagging a home in their price range.
With so few houses available for sale today, you may be able to skip the bigger renovations before you sell and cash in on the current demand for your house.
If you're ready to move, let's connect to determine your best next steps in this sellers' market.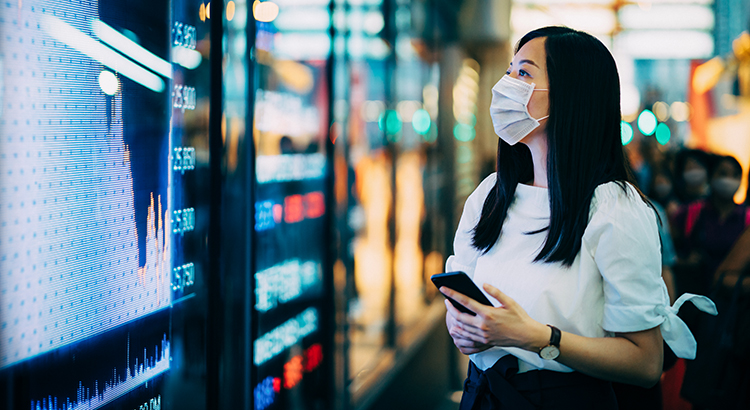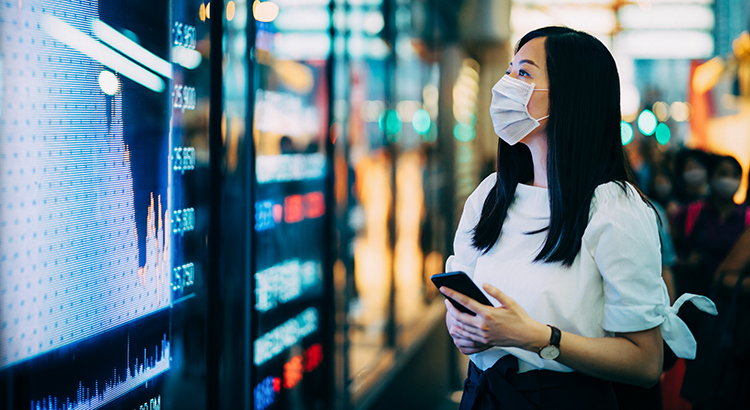 Earlier this year, many economists and market analysts were predicting an apocalyptic financial downturn that would potentially rattle the U.S. economy for years to come. They immediately started to compare it to the Great Depression of a century ago. Six months later, the economy is still trying to stabilize, but it is evident that the country will not face the total devastation projected by some. As we continue to battle the pandemic, forecasts are now being revised upward. The Wall Street Journal (WSJ) just reported:
"The U.S. economy and labor market are recovering from the coronavirus-related downturn more quickly than previously expected, economists said in a monthly survey.

Business and academic economists polled by The Wall Street Journal expect gross domestic product to increase at an annualized rate of 23.9% in the third quarter. That is up sharply from an expectation of an 18.3% growth rate in the previous survey."
What Shape Will the Recovery Take?
Economists have historically cast economic recoveries in the form of one of four letters – V, U, W, or L.
A V-shaped recovery is all about the speed of the recovery. This quick recovery is treated as the best-case scenario for any economy that enters a recession. NOTE: Economists are now also using a new term for this type of recovery called the "Nike Swoosh." It is a form of the V-shape that may take several months to recover, thus resembling the Nike Swoosh logo.
A U-shaped recovery is when the economy experiences a sharp fall into a recession, like the V-shaped scenario. In this case, however, the economy remains depressed for a longer period of time, possibly several years, before growth starts to pick back up again.
A W-shaped recovery can look like an economy is undergoing a V-shaped recovery until it plunges into a second, often smaller, contraction before fully recovering to pre-recession levels.
An L-shaped recovery is seen as the worst-case scenario. Although the economy returns to growth, it is at a much lower base than pre-recession levels, which means it takes significantly longer to fully recover.
Many experts predicted that this would be a dreaded L-shaped recovery, like the 2008 recession that followed the housing market collapse. Fortunately, that does not seem to be the case.
The same WSJ survey mentioned above asked the economists which letter this recovery will most resemble. Here are the results: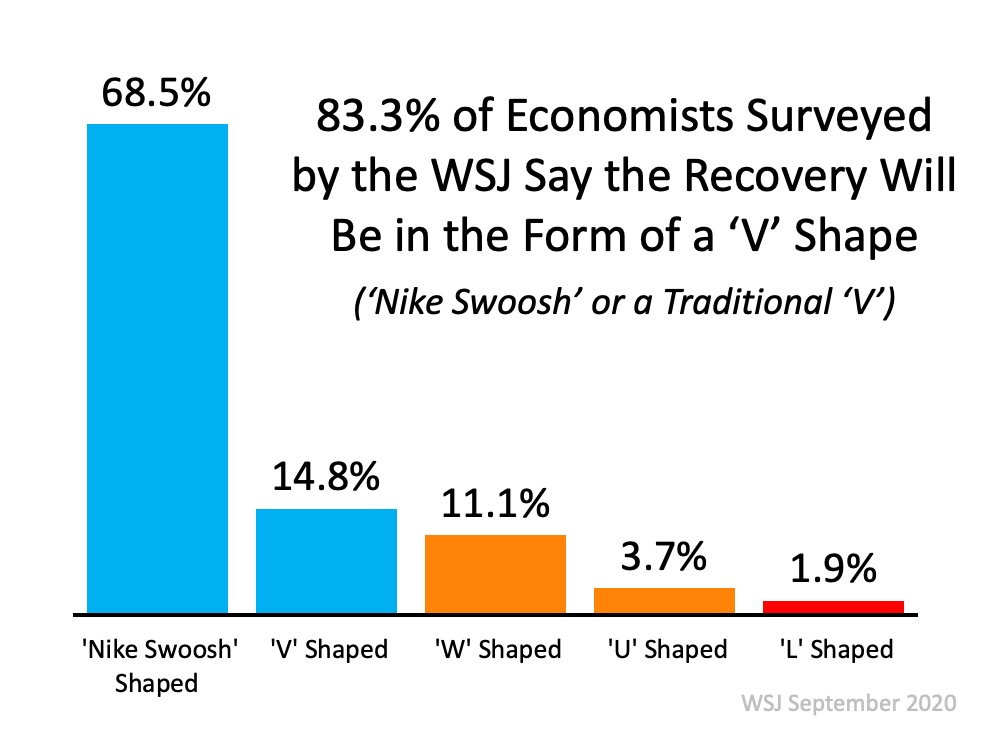 What About the Unemployment Numbers?
It's difficult to speak positively about a jobs report that shows millions of Americans are still out of work. However, when we compare it to many forecasts from earlier this year, the numbers are much better than most experts expected. There was talk of numbers that would rival the Great Depression when the nation suffered through four consecutive years of unemployment over 20%.
The first report after the 2020 shutdown did show a 14.7% unemployment rate, but much to the surprise of many analysts, the rate has decreased each of the last three months and is now in the single digits (8.4%).
Economist Jason Furman, Professor at Harvard University's John F. Kennedy School of Government and the Chair of the Council of Economic Advisers during the previous administration, recently put it into context:
"An unemployment rate of 8.4% is much lower than most anyone would have thought it a few months ago. It is still a bad recession but not a historically unprecedented event or one we need to go back to the Great Depression for comparison."
The economists surveyed by the WSJ also forecasted unemployment rates going forward:
2021: 6.3%
2022: 5.2%
2023: 4.9%
The following table shows how the current employment situation compares to other major disruptions in our economy: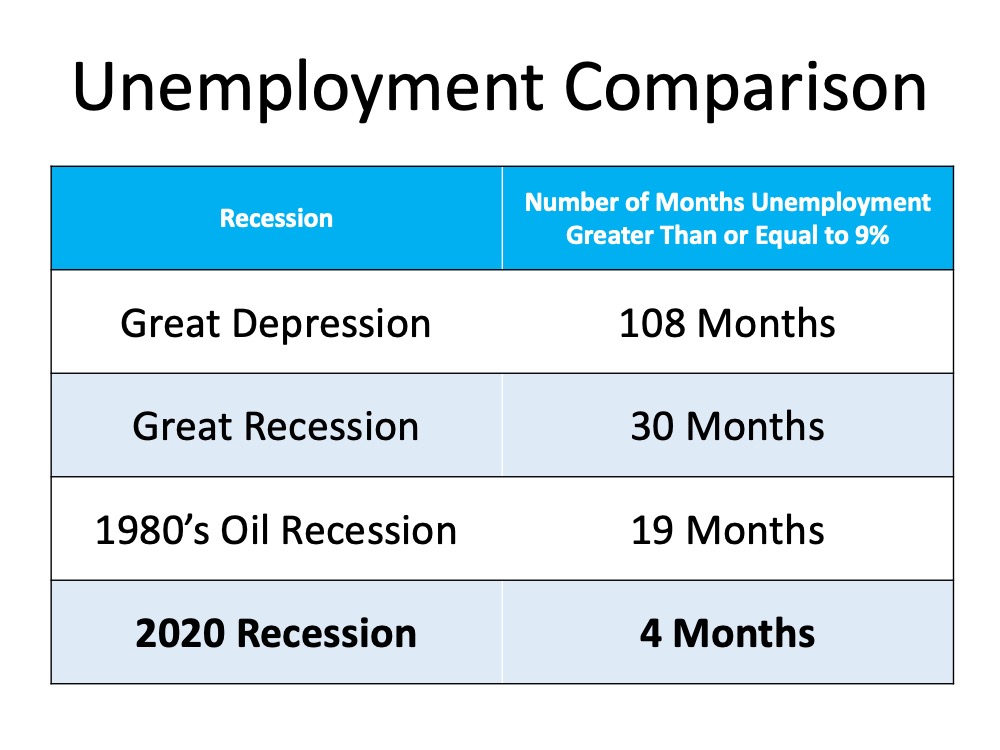 Bottom Line
The economic recovery still has a long way to go. So far, we are doing much better than most thought would be possible.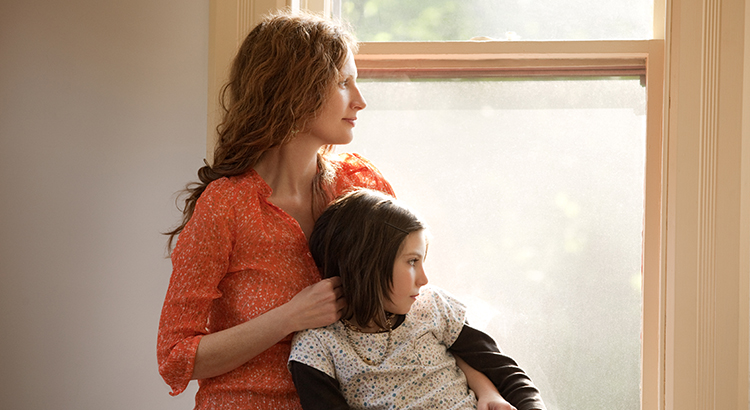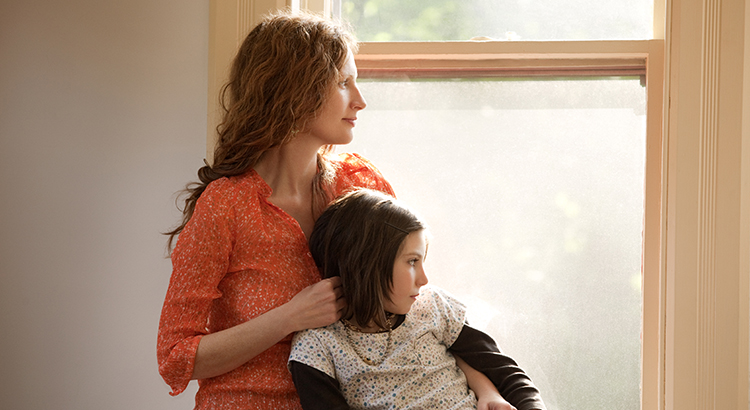 How long have you lived in your current home? If it's been a while, you may be thinking about moving. According to the latest Profile of Home Buyers and Sellers by the National Association of Realtors (NAR), in 2019, homeowners were living in their homes for an average of 10 years. That's a long time to be in one place, considering the average length of time homeowners used to stay put hovered closer to 6 years.
With today's changing homebuyer needs, especially given how the current health crisis has altered our daily lifestyles, many homeowners are reconsidering where they're at and thinking about moving to a home with more space for their families. Here's why it might be a great time to make that happen.
The real estate market has changed in many ways over the past 10 years, and current homeowners are earning much more equity today than they used to have. According to CoreLogic, in the first quarter of 2020 alone, the average homeowner gained approximately $9,600 in equity. If you're considering selling your house right now, you may have accumulated more equity to put toward a move than you realize.
Dialing back 10 years, many homeowners also locked in a fairly low mortgage rate. In 2010, the average rate was only 4.09%. This motivated homeowners to stay in their houses longer than usual to keep their rate low, rather than moving. Just last Thursday, however, average mortgage rates hit a new historic low at 2.86%. Sam Khater, Chief Economist at Freddie Mac explains:
"Mortgage rates have hit another record low due to a late summer slowdown in the economic recovery…These low rates have ignited robust purchase demand activity, which is up twenty-five percent from a year ago and has been growing at double digit rates for four consecutive months."
Ten years ago, we couldn't have imagined a mortgage rate under 3%. Looking at the math today, making a move into a new home and locking in a significantly lower rate than you have now could save you greatly on a monthly basis, and over the life of your loan (See chart below):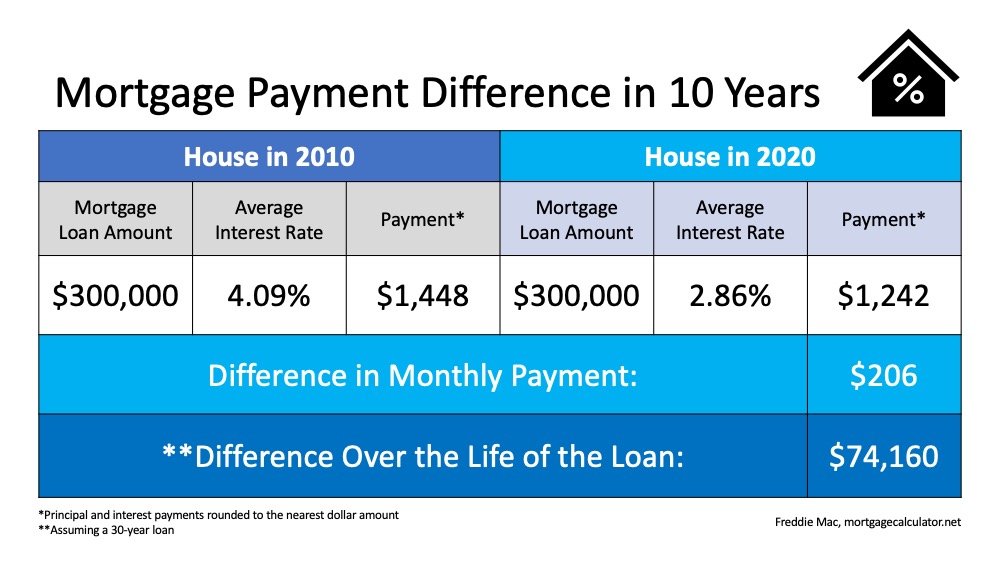 As the example shows, you can save a substantial amount every month if you qualify for today's low mortgage rate, and the savings can really add up over the life of a 30-year fixed-rate loan.
Bottom Line
As a homeowner, you have a huge opportunity to move up right now. Whether you want to save more each month or get more home for your money based on your family's changing needs, it's a great time to connect to discuss the market in our area. Buyers are actively looking for more homes to buy, and you can win big by making a move if the time is right for you.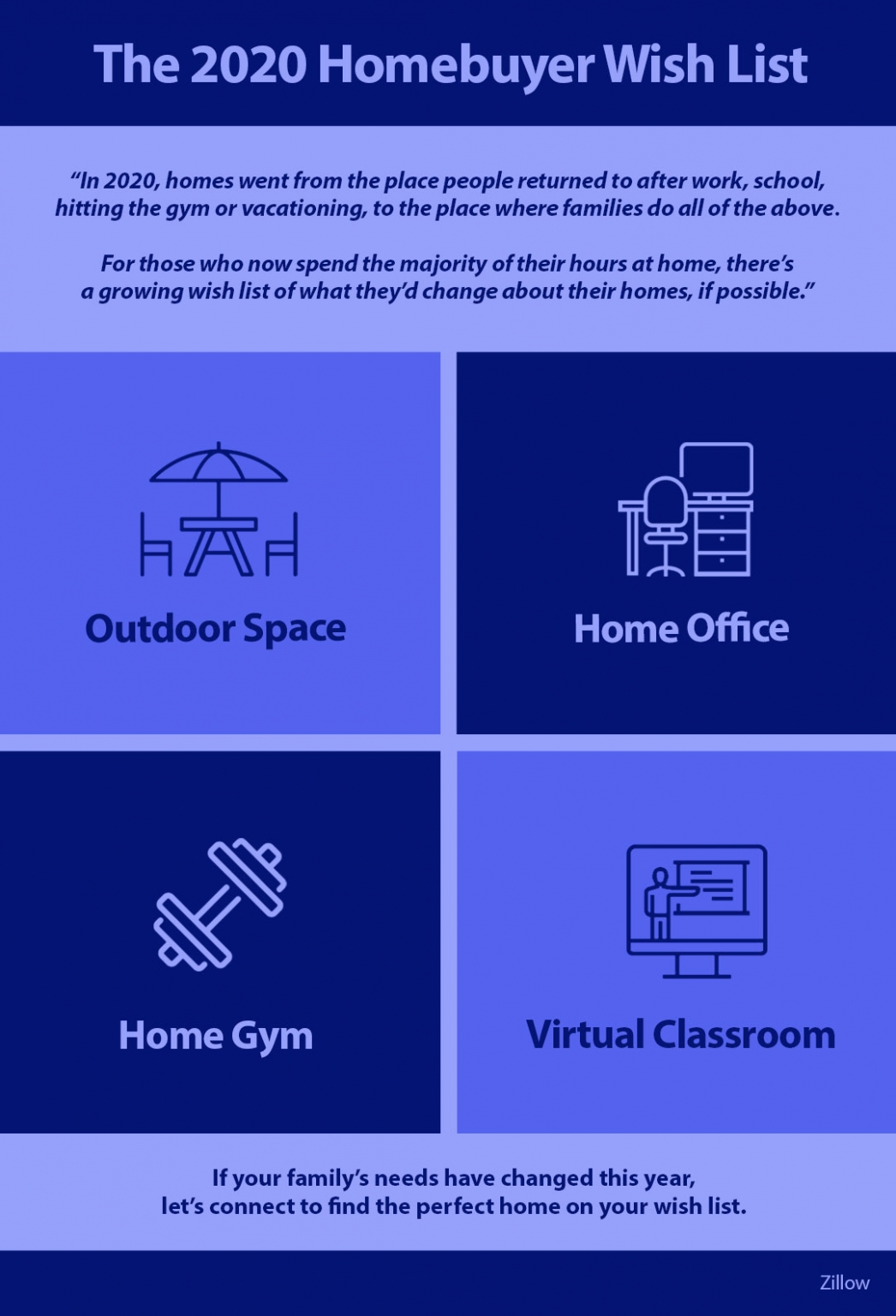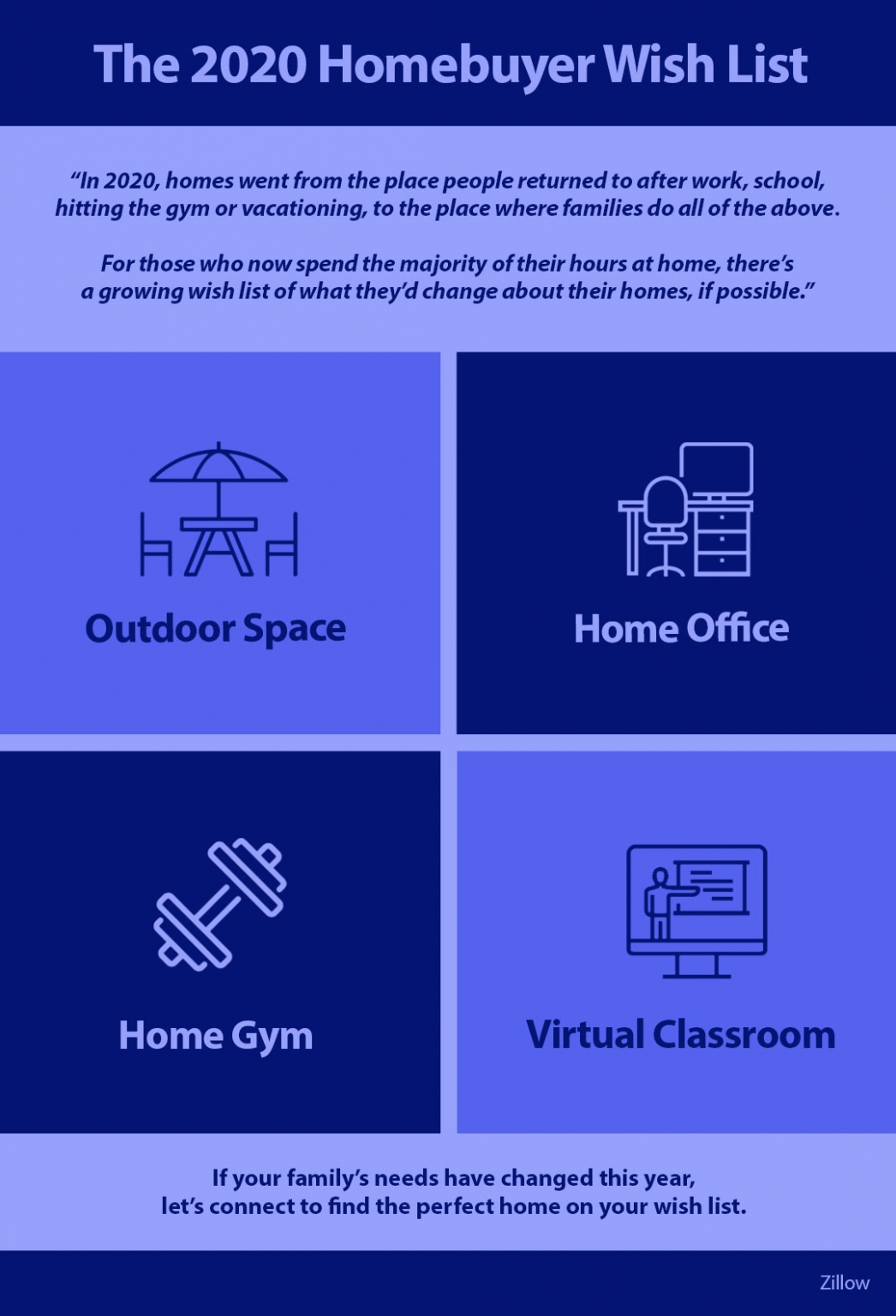 Some Highlights
The word "home" is taking on a whole new meaning this year, and buyers are starting to look for new features as they re-think their needs and what's truly possible.
From more outdoor space to virtual classrooms for their children, buyers have a growing list of what they'd like to see in their homes.
Let's connect today if your needs have changed and your wish list is expanding too.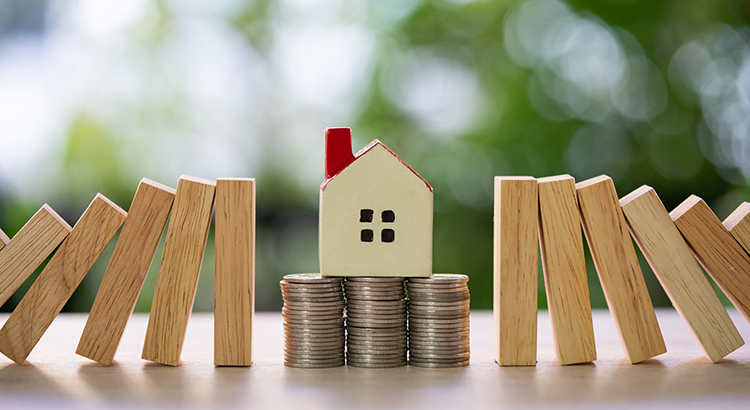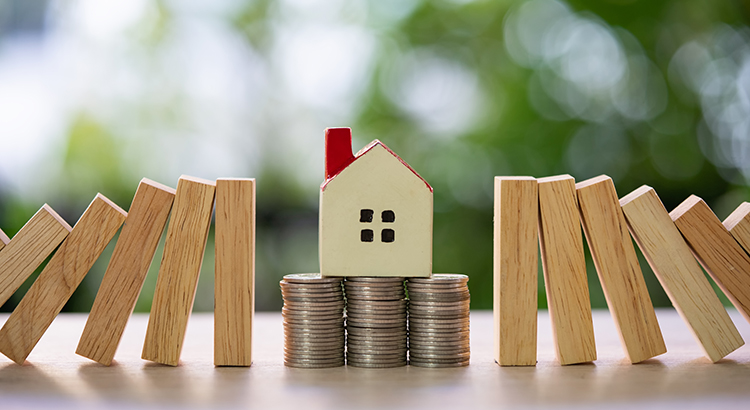 When most of us begin searching for a home, we naturally start by looking at the price. It's important, however, to closely consider what else impacts the purchase. It's not just the price of the house that matters, but the overall cost in the long run. Today, that's largely impacted by low mortgage rates. Low rates are actually making homes more affordable now than at any time since 2016, and here's why.
Today's low rates are off-setting rising home prices because it's less expensive to borrow money. In essence, purchasing a home while mortgage rates are this low may save you significantly over the life of your home loan.
Taking a look at the graph below with data sourced from the National Association of Realtors (NAR), the higher the bars rise, the more affordable homes are. The orange bars represent the period of time when homes were most affordable, but that's also reflective of when the housing bubble burst. At that time, distressed properties, like foreclosures and short sales, dominated the market. That's a drastically different environment than what we have in the housing market now.
The green bar represents today's market. It shows that homes truly are more affordable than they have been in years, and much more so than they were in the normal market that led up to the housing crash. Low mortgage rates are a big differentiator driving this affordability.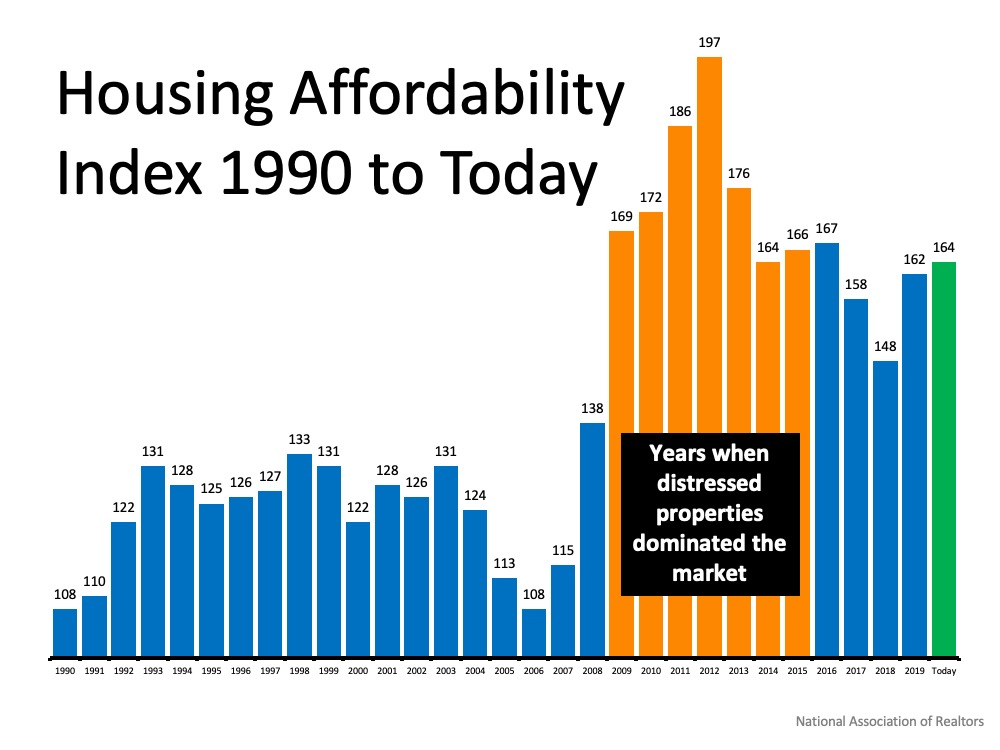 What are the experts saying about affordability?
Experts agree that this unique moment in time is making homes incredibly affordable for buyers.
Lawrence Yun, Chief Economist, NAR:
"Although housing prices have consistently moved higher, when the favorable mortgage rates are factored in, an overall home purchase was more affordable in 2020's second quarter compared to one year ago."
Bill Banfield, EVP of Capital Markets, Quicken Loans:
"No matter what you're looking for, this is a great time to buy since the current low interest rates can stretch your spending power."
"Those shopping for a home can afford 10 percent more home than they could have one year ago while keeping their monthly payment unchanged. This translates into nearly $32,000 more buying power." 
"Homeowners are the clear winners. Low mortgage rates mean the cost of owning is at historically low levels and who gains all the benefits of strong house price appreciation? Homeowners."
Bottom Line
When purchasing a home, it's important to think about the overall cost, not just the price of the house. Homes on your wish list may be more affordable today than you think. Let's connect to discuss how affordability plays a role in our local market, and your long-term homeownership goals.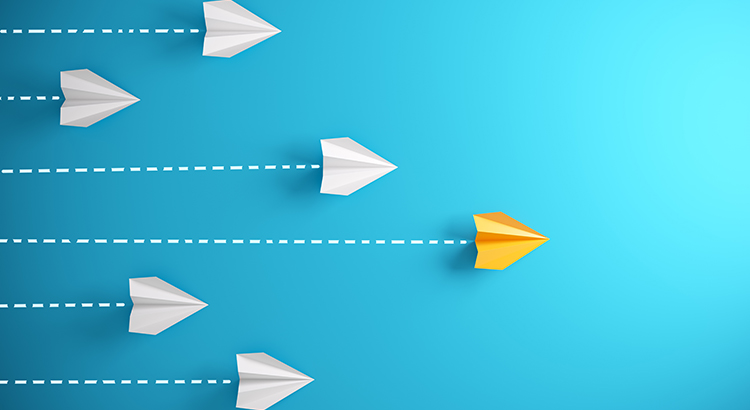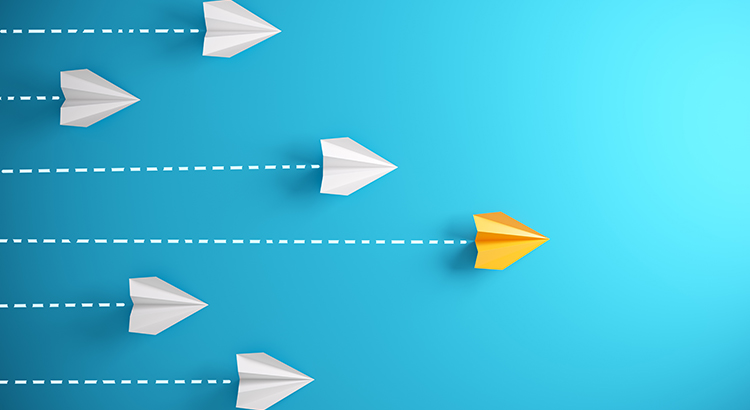 You may have heard that pre-approval is a great first step in the homebuying process. But why is it so important? When looking for a home, the temptation to fall in love with a house that's outside your budget is very real. So, before you start shopping around, it's helpful to know your price range, what you're comfortable within a monthly mortgage payment, and ultimately how much money you can borrow for your loan. Pre-approval from a lender is the only way to do this.
According to a recent survey from realtor.com, many buyers are making the mistake of skipping the pre-approval step in the homebuying process:
"Of over 2,000 active home shoppers who plan to purchase a home in the next 12 months, only 52% obtained a pre-approval letter before beginning their home search, which means nearly half of home buyers are missing this crucial piece of paperwork."
This paperwork (the pre-approval letter) shows sellers you're a qualified buyer, something that can really help you stand out from the crowd in the current ultra-competitive market.
How competitive is today's market? Extremely – especially among buyers.
With limited inventory, there are many more buyers than sellers right now, and that's fueling the competition. According to the National Association of Realtors (NAR), homes are receiving an average of 2.9 offers for sellers to negotiate, so bidding wars are heating up.
Pre-approval shows homeowners you're a serious buyer. It helps you stand out from the crowd if you get into a multiple-offer scenario, and these days, it's likely. When a seller knows you're qualified to buy the home, you're in a better position to potentially win the bidding war and land the home of your dreams.
Danielle Hale, Chief Economist for realtor.com notes:
"For 'a buyer in a competitive market, it's typically essential to have pre-approval done in order to submit an offer, so getting it done before you even look at homes is a smart move that will enable a buyer to move fast to put an offer in on the right home.'"
In addition, today's housing market is also changing from moment to moment. Interest rates are low, prices are going up, and lending institutions are regularly updating their standards. You're going to need guidance to navigate these waters, so it's important to have a team of professionals (a loan officer and a real estate agent) making sure you take the right steps along the way and can show your qualifications as a buyer at the time you find a home to purchase.
Bottom Line
In a competitive market with low inventory, a pre-approval letter is a game-changing piece of the homebuying process. If you're ready to buy this year, let's connect before you start searching for a home.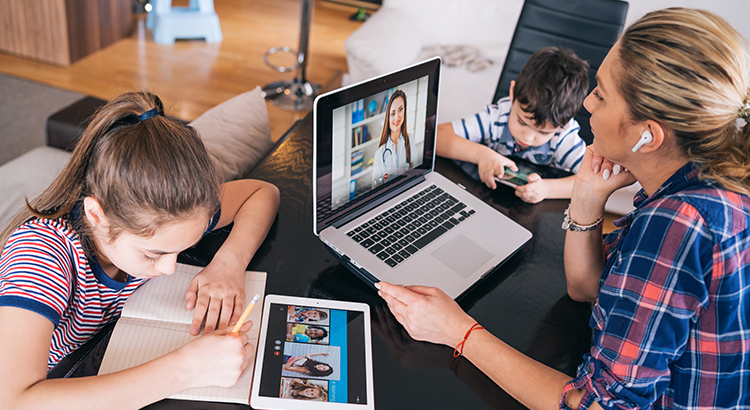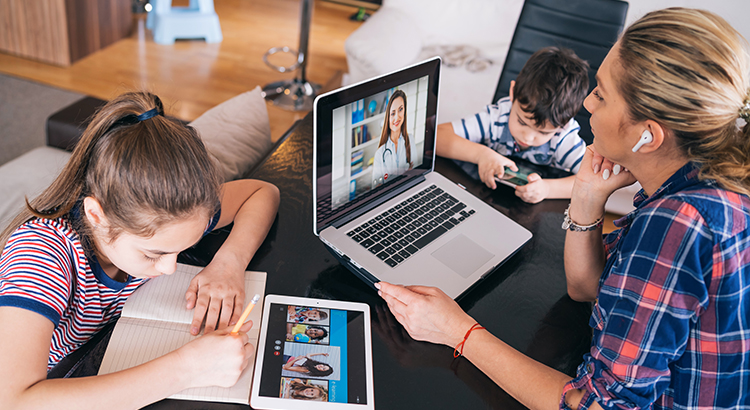 Today, Americans are moving for a variety of different reasons. The current health crisis has truly re-shaped our lifestyles and our needs. Spending extra time where we currently live is enabling many families to re-evaluate what homeownership means and what they find most important in a home.
According to Zillow:
"In 2020, homes went from the place people returned to after work, school, hitting the gym or vacationing, to the place where families do all of the above. For those who now spend the majority of their hours at home, there's a growing wish list of what they'd change about their homes, if possible." 
With a new perspective on homeownership, here are some of the top reasons people are reconsidering where they live and making moves this year.
1. Working from Home
Remote work is becoming the new norm in 2020, and it's continuing on longer than most initially expected. Many in the workforce today are discovering they don't need to live close to the office anymore, and they can get more for their money if they move a little further outside the city limits. Lawrence Yun, Chief Economist for the National Association of Realtors (NAR) notes:
"With the sizable shift in remote work, current homeowners are looking for larger homes and this will lead to a secondary level of demand even into 2021."
If you've tried to convert your guest room or your dining room into a home office with minimal success, it may be time to find a larger home. The reality is, your current house may not be optimally designed for this kind of space, making remote work and continued productivity very challenging.
2. Virtual Schooling
With school about to restart this fall, many districts are beginning the new academic year online. Education Week is tracking the reopening plans of schools across the country, and as of August 21, 21 of the 25 largest school districts are choosing remote learning as their back-to-school instructional model, affecting over 4.5 million students.
With a need for a dedicated learning space, it may be time to find a larger home to provide your children with the same kind of quiet room to focus on their schoolwork, just like you likely need for your office work.
3. A Home Gym
Staying healthy and active is a top priority for many Americans. With various levels of concern around the safety of returning to health clubs across the country, dreams of space for a home gym are growing stronger. The Home Builders Association of Greater New Orleans explains:
"For many in quarantine, a significant decrease in activity is more than a vanity issue – it's a mental health issue."
Having room to maintain a healthy lifestyle at home – mentally and physically – may prompt you to consider a new place to live that includes space for at-home workouts.
4. Outdoor Space
Especially for those living in an apartment or a small townhouse, this is a new priority for many as well. Zillow also notes the benefits of being able to use yard space throughout the year:
"People want more space in their next home, and one way to get it is by turning part of the backyard into a functional room, 'an outdoor space for play as well as entertaining or cooking.'"
You may, however, not have the extra square footage today to have these designated areas – indoor or out.
Moving May Be Your Best Option
If you're clamoring for extra space to accommodate your family's changing needs, making a move may be your best bet, especially while you can take advantage of today's low mortgage rates. Low rates are making homes more affordable than they have been in years. According to Black Knight:
"Buying power for those shopping for a home is up 10% year over year, with home buyers able to afford nearly $32,000 more home than they could have 1 year ago while keeping their monthly payment the same."

It's a great time to get more home for your money, just when you need the extra space.
Bottom Line
People are moving for a variety of different reasons today, and many families' needs have changed throughout the year. If you've been trying to decide if now is the time to buy a new home, let's connect to discuss your needs.